Are you looking for the best resources to get free blog content for your website?
Is your mindset something like:
"I want to find free blog content for my site. It should be unique content that's readily available and won't hit my budget too much, if at all?"
Then, you're in the right place.
We know how important it is to keep a regular publishing schedule.
And we understand the struggle to make time to create high-quality content for your website can be an uphill one.
In this article, we've compiled an ultimate list of all of the best tools, ideas, and resources you can try to get free content for your blog.
Table of Contents
SEOPressor Blog Title Generator
Hubspot Blog Topic Ideas Generator
Free Article Spinner
Article Rewriter
eArticlesOnline
EzineArticles
Articles.org
Article Sphere
Amazines
Blogger Linkup
PostJoint
My Blog Guest
Now, that's quite a lot to cover.
But before we continue, let's define what we mean by free content here.
What is free content?
Basically, free content in this article will mean content that you can use for your blog. It can be in any media—text, image, audio, or video.
They will cost you next to nothing—or nothing at all. The only difference is the time investment you need to put in to produce the results.
Where and when to use free blog content?
Before we move forward, we want to make sure you don't go down this road without knowing what's in store for you.
First, you need to ask: what will you use free blog content for?
The answer is: definitely not for your Tier 1 pages.
If you are looking for free blog content, one of the best ways to use them is for your tier 3 pages.
Tiers, you say?
It just means that a website should typically divide all its pages into tiers.
Tier 1 pages are your top landing pages. These are your high-priority money pages expected to convert, get traffic, and rank for your target keywords.
Lower down are your Tier 2 pages. They do pretty well, and these pages should all direct their own traffic by linking to your tier 1 pages.
Finally, there are Tier 3 pages. These are the ones that get the least views but are typically more in number. These should direct their traffic by linking to Tier 2 and 1 pages.
Learn more about how a tiered site architecture works.
Now to reiterate: NEVER use free content for your tier 1 pages.
Free content are not detailed, comprehensive, and high-quality enough to fit the standards needed for a Tier 1 page, and using them can end up harming your site.
So let's get that message very clear.
Basically, if you need some short pages built to describe some feature updates on your tool, new products you just launched, answer some frequently-asked customer questions, or quickly address a new minor Google algorithm change, then you're looking to build Tier 3 pages.
But if you're looking to rank against competitors, get more leads, and convert those into sales, you're looking to build Tier 1 pages, and you need to do more than push a few buttons to generate a free article or post a call for bloggers to come sending you with free material.
That's not how that works.
If you look at top content from Neil Patel, Brian Dean, or Rand Fishkin, you'll see that everything they produce took time in terms of research, preparation, writing, editing, and design work before they hit publish.
This level of effort is something you can't simply get for free.
It's either you spend all that time and effort yourself, or you hire professionals who will personally study your needs to give you bespoke, higher-quality, strategic content that will actually make a difference for your business.
But if you're just looking for free blog content to build Tier 3 pages, then we can help you with that, too.
Still with me?
Now, let's get to it!
Free Blog Content Generator Tools
1. SEOPressor Blog Title Generator
SEOPressor is a WordPress plugin with a nifty blog title generator.
Just type in your topic or keywords, and set the description type of your keyword (is it a brand/product? An event? A person? etc.)
Below, I gave it a try.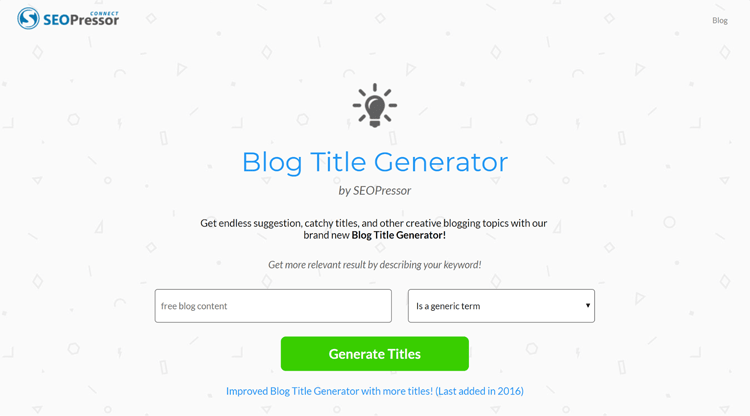 When I typed my topic "free blog content," for example, here are the topic/title suggestions that I got.
Not bad.
And guess what? It's not the only topic and title generator on this list.
2. Hubspot Blog Topic Ideas Generator
Inbound marketing pioneer HubSpot also has their own blog topic ideas generator.
This time, instead of typing your keywords, you need to type three different nouns into the form field. HubSpot's content generator will then spin some topic/title ideas out of those.
The results are not bad here either!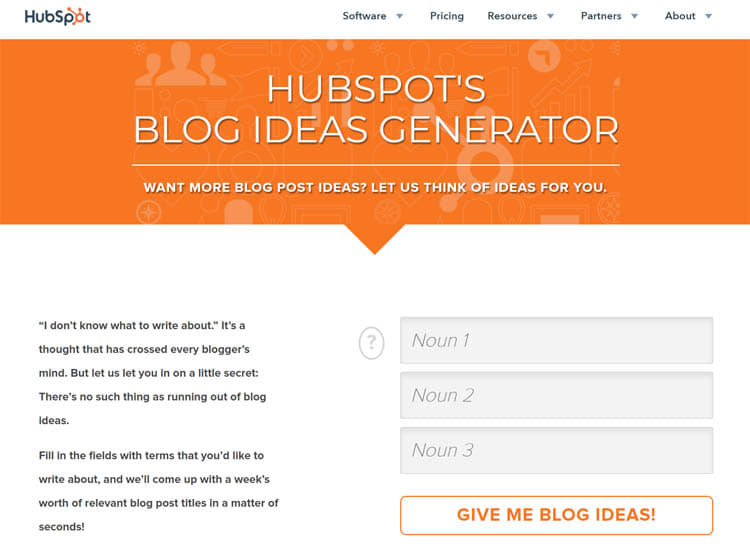 In fact, they actually make for some pretty interesting topic ideas. Got no complaints about the title structure as well.
Of course, it's not always this perfect. As you know with automated tools, you'll still need your human eyes and common sense to tell whether the results you're served with actually make sense.
3. Free Article Spinner
The Free Article Spinner will spin new content for your for free, from sentences to a whole article.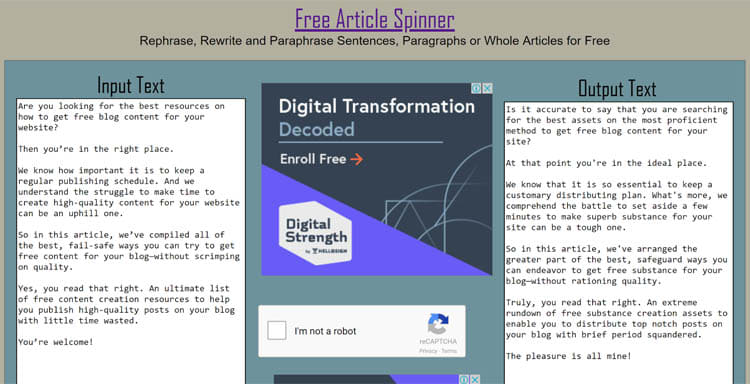 The end result actually looks funny and almost unusable, so you'll still need approximately between 30 to 90 minutes of editing to make it viable.
Remember, it's free blog content, so you'll have to make the most of what you've got.
4. Article Rewriter
The Article Rewriter from SEO Tools Centre works much the same way as a regular article spinner.
Below, I tried pasting the text of one of our blog posts on content promotion.
Just click "spin," and the tool generates spin suggestions.
To be honest, it can actually produce an okay spun article if you take time to go through each spin suggestion.
Nothing to write home about but again, it's free, and it's quick. Which are good things if you're looking to build a mass of good articles quickly.
Free Blog Content Directories and PLR Articles
If you've come across once infamous sites like About.com and eHow in their heyday before their rebranding, you may be familiar already with what content directories are.
Basically, they're content farms where tons of articles get produced.
Some of these articles are reusable while some need to be bought.
And what is a PLR article?
Simply, PLR stands for private label rights. This is a special type of license where you can purchase an article and legally edit or publish this as your own, even with your own byline.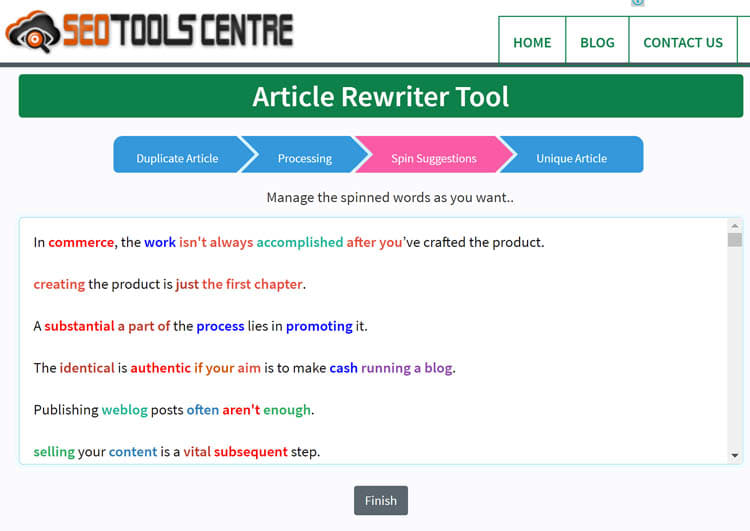 However, there are some cons to PLR articles, as John Chow warned in his blog post.
"There is a huge quality difference between articles produced by a professional and one written for private label rights.
Another thing to keep in mind is most PLR resellers will sell their articles to anyone and everyone.
This brings up the issue of content duplication and worst, seeing the same articles 'written' by many different people."
So keep these in mind before taking the leap. As always, use sparingly, and never on the top money pages you're looking to rank.
5. eArticles Online
eArticles online is an article repository.
Writers post content and websites looking for free content may choose from the several categories available and republish the content on their site, provided the credit goes to the original author.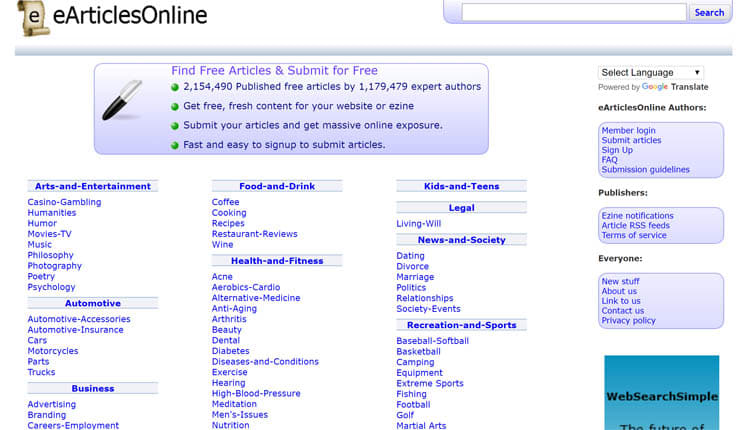 6. EzineArticles
EzineArticles is also a content directory with a category section and expert writers.
What makes EzineArticles a convenient option is that, at the bottom, it has a publisher or cite option that opens clean text and html copy that's ready for copy paste.
Quick, easy, free.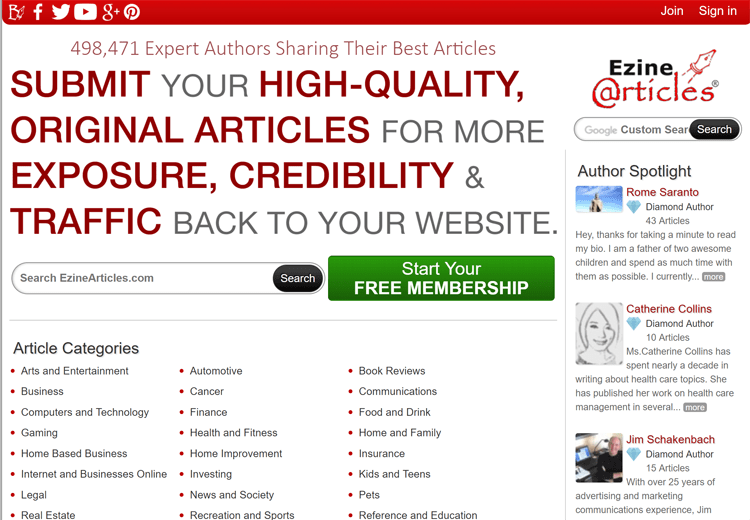 Take note that what you're getting may not be unique to your site alone, though. Other publishers are allowed to syndicate the same content on their site.
7. Articles.org
Another free online article directory, Articles.org currently only has hundreds of articles in their categories.
The plus? They also have articles in other languages.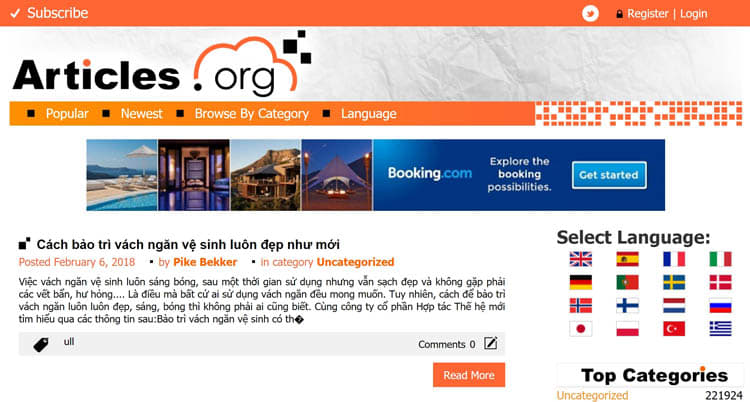 The catch? They have this section in their terms and conditions page.
It kind of says that they'll store your IP address and track your online activity.
8. Article Sphere
Owned by Singaporean marketing entrepreneur Larry Lim, ArticleSphere.com is an "online one-stop source of quality content" and a "free article directory" for anyone looking to syndicate free content on their websites.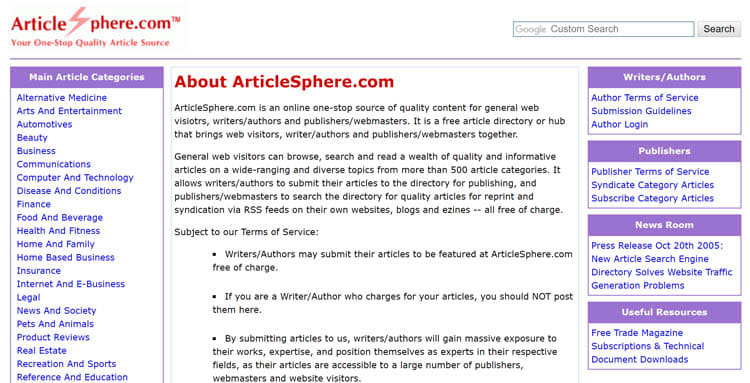 ArticleSphere only accepts articles in English and, compared to other directories, are not as lenient with their writer rules. They reserve the right to edit or remove any articles that they believe need to be updated to fit their editorial guidelines.
The only allowed way to republish any of their content to your site is to use their "Republish" button.
The one thing that could be a tad distracting about this site though is the presence of annoying ads. If you don't mind clicking away from more than a few, then check this resource out.
9. Amazines
Amazines has thousands of current articles in its online directory. You're free to check and republish any content provided that you only copy and paste to your website using their script.
Another plus? Amazines also have articles in other languages.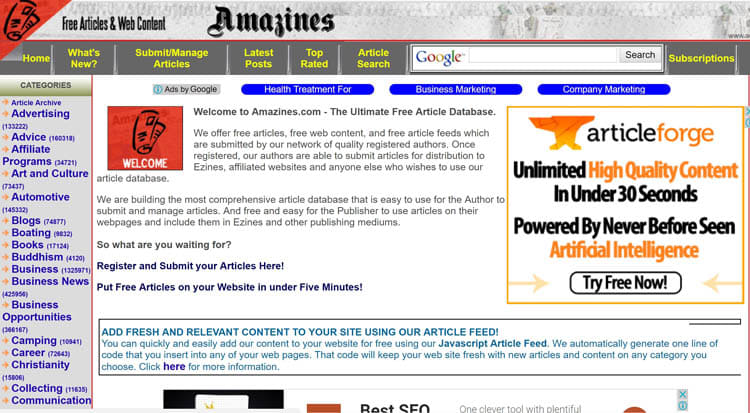 10. Blogger Linkup
BloggerLinkUp will let you subscribe to their list, and you would get an email each Monday, Wednesday, and Friday.
It's basically a newsletter and listing that connects bloggers and blog owners looking for guest posts.
These emails will list bloggers looking for expert sources, requests for guest posts, bloggers and webmasters offering guest posts, and PR reps and others seeking reviews of products.
Bloggers post some details about their ready-made articles looking for a home, blog owners post a call for guest posts to their sites along with a snippet of their guidelines, etc.
When you see a request that you can fulfill, just respond directly to the requester.
Update 2018: This is what Blogger LinkUp looks like now.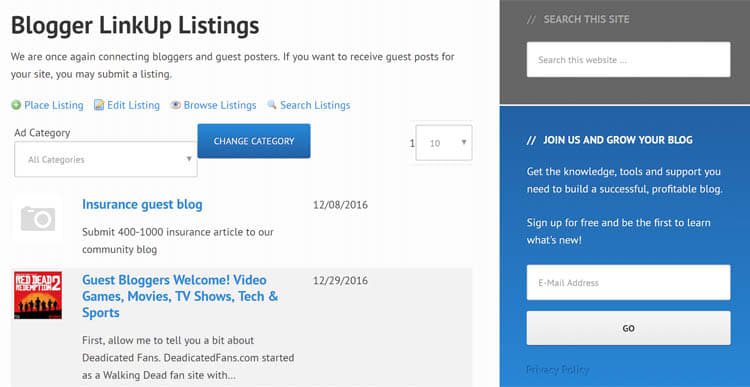 There are fewer opportunities in this channel compared to the booming community it was some years ago, but it's still online and still functions as a place to source for possible guest posters to your site.
Be prepared to sift through some bad candidates and do a bit of editing.
11. PostJoint
Post Joint is another place to get free unique content for your blog, Post Joint connects advertisers with blog owners. Advertisers produce quality content and bloggers offer to publish their guest posts.
Post Joint streamlines the prospecting process, matches the audiences up, and takes care of quality control.
Update 2018: PostJoint is no longer free but still has a free trial with no credit card requirement.
12. My Blog Guest
My Blog guest (MBG) is an awesome community of bloggers and guest bloggers who are willing to give you their unique contents in exchange for a link from your blog. It is own by Ann Smarty, a well-known blogger, and social media user.
This site has a lot of users and you will usually find an article that will suit your blog no matter your blog niche.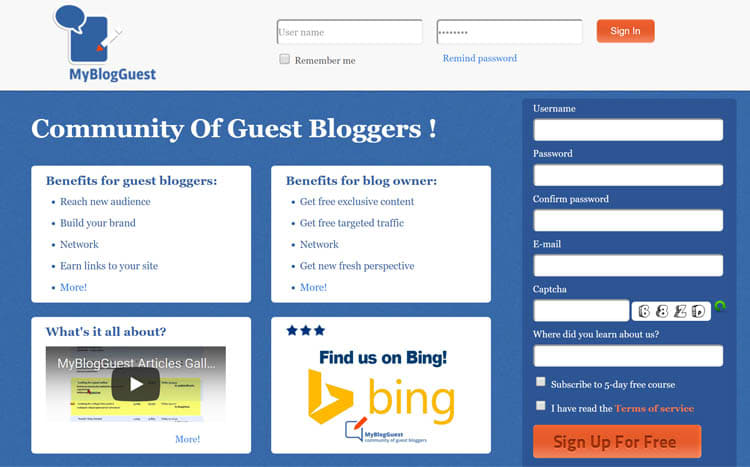 Conclusion
So now you've got all these options to generate free content for your blog. We've even gone ahead and gave you some paid examples, too!
Just remember, free blog content can work—just be careful where you use it for so you don't get your site and your business's brand reputation in trouble!